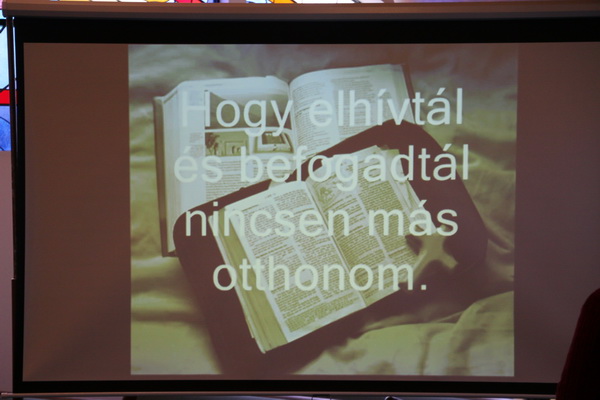 Special Sunday Worship Service on January 29, 2017
God wants to give His church a broader vision, and keep the congregation moving. The reason is because Christianity and His church should never be stuck and plateaued.
How quick we are to say when we go through trials and difficulties in the congregation, "It's a defeat. We are declining. Where are the people?" However, I strongly believe that God is using the times of trial to positioning our church through an obvious setback for strategic advance and blessing, and spreading spiritual power and the joy of faith to the lost people.
So what would be our decision? Should we cry, when we are experiencing hardships, and say that we are defeated, are declining, and there is no solution? Or should we begin to ask GOD what His purpose is with our church, and then do something about it TOGETHER! It means that all of us in the church have an important role in God's work. You and I can do something about drawing in and gaining new members, and working in the congregation, which all would demonstrate that God is leading His church onto new ways, blessings, and strategic advance.
The most important lesson we can learn in the midst of difficulties and trials is that God is sovereign and He can turn the setbacks and difficulties of the church into triumphs for the Great Commission and evangelism so our congregation would grow.
When we are in trouble then we should do something about it. We have to pray for each other and bless one another, and let us see what the Lord will do in our lives and in the life of our church.
---
Különleges vasárnapi istentisztelet 2017. január 29-én.
Isten egy nagyobb célt akar adni az Ő egyházának, hogy az mozgásban legyen. Isten nem akarja a keresztyéneket és egyházát megrekedve és egy helyben topogva látni.
Milyen hamar ki szoktuk mondani, amikor a templomban nehézségeket tapasztalunk: "Végünk van. Csökken az egyháztagság. Hol vannak az emberek a gyülekezetből?" Meg vagyok azonban győződve arról, hogy Isten a megpróbáltatások idejét arra használja, hogy a gyülekezetünket a nehézségekből egy stratégiai előre mozdulás, növekedés felé vezesse és, hogy elérje a bűneiben elveszett embereket az örömhírrel.
Hogyan döntünk? Kezdjünk el siránkozni –amikor nehézségeken megyünk keresztül– és mondogatni, hogy végünk van, elfogyunk, nincs megoldás? Vagy elkezdjük keresni ISTENt, hogy mi az Ő célja a gyülekezetünkkel, és utána elkezdjük EGYÜTT megcselekedni azt, amit Ő mondott. Ez azt jelenti, hogy mindannyiunknak fontos szerepe van Isten munkájában. Te és én tehetünk valamit azért, hogy behívjunk másokat is a gyülekezetbe azért, hogy a tagságunk növekedjen, és dolgozhatunk is a templomnál, ami mind-mind része annak, hogy Isten új utakra vezet, valamint, hogy Ő az áldások és stratégiai előre mozdulás felé tereli az egyházunkat.
A legfontosabb lecke, amit tanulhatunk a nehézségek és megpróbáltatások között az, hogy Isten mindenható és Ő a gyülekezetben levő akadályokat, nehézségeket a misszió és evangélizáció győzelmére tudja fordítani azért, hogy a gyülekezetünk növekedjen.
Amikor problémákkal néznünk szembe, akkor tennünk kell valamit. Imádkoznunk kell egymásért és meg kell áldanunk egymást, és nézzük meg, hogy mit fog tenni az Úr az életünkben és a gyülekezetünk életében.